josephw
Prayer Warrior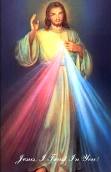 Joined: 10 May 2005
Posts: 3151
Location: Greenville,texas
Posted: Fri Nov 20, 2009 5:02 am

Post subject: POPE JOHN PAUL STATED

---

POPE JOHN PAUL STATED
COUNTRIES THAT HAVE THE MEANS TO INCRINATE FOR LIFE SHOULD.THEYSHOULD DO SO, AND NOT USE DEATH PENALTY.
I CERTAINLY AGREE WITH HIM.

JESUS I TRUST IN YOU
JOSEPHW
_________________
Our Lord said: "The prayer that pleases me most is for the conversion of sinners. This prayer is always answered" (Diary, 1397).