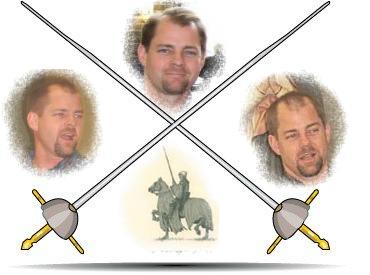 If you are looking for a "BURGER KING" type Catholicism
...you know their slogan, "HAVE IT YOUR WAY"...
YOU WON'T FIND IT HERE!

Recently the members of St. William the Confessor Catholic Church in Greenville, Texas were blessed to welcome Doug Barry as he gifted us with his one man Passion and Martyr Presentation, as well as give "off the cuff" talks about important issues such as modesty, the family, and being bold and brave enough to be persecuted for the faith. It is difficult to find words that are fitting to describe what he accomplishes and what Radix will do for you! Any Catholic that is in love with the TRUTH would thoroughly enjoy attending one or all of these presentations. Why not invite Radix to your parish? We promise you will not be sorry!
What is a "Radix" you may ask?
Radix makes personal presentations on the Catholic Faith. Doug Barry criss-crosses the country to speak on the Martyrs of the Church in a way recommended by Pope John Paul II – a real "lived theology of the Saints."

"Radix" is a word which in English means 'root' or 'a starting point.' Our Faith in Jesus must be our starting point and our end, our alpha and our omega, our beginning and our end.
The Radix presentations include the virtues that our beautiful Faith recommends – especially how we appear to others, our modesty in dress for example. The virtue of Courage comes across loud and clear as the different aspects of the Passion of Jesus are detailed.

Yes, this is indeed a performance – an actor's way of reinforcing the Faith in Jesus and His key teachings.
Fr. Paul Weinberger, Pastor, St. William the Confessor Catholic Parish
Who is Doug Barry?
Doug Barry is the Founder and Director of the Radix Apostolate. He is married and has six children. For more than ten years Doug has traveled throughout the United States fearlessly defending the Teachings of Christ, while captivating his audience, young and old.
Doug Barry will make you laugh and make you cry. It is a rare occasion these days to meet an extraordinary man like Doug, who truly cares about the salvation of the souls of his brothers and sisters in Christ.
Photos/The Passion
March 20, 2007
St. William the Confessor Catholic Church
Greenville, Texas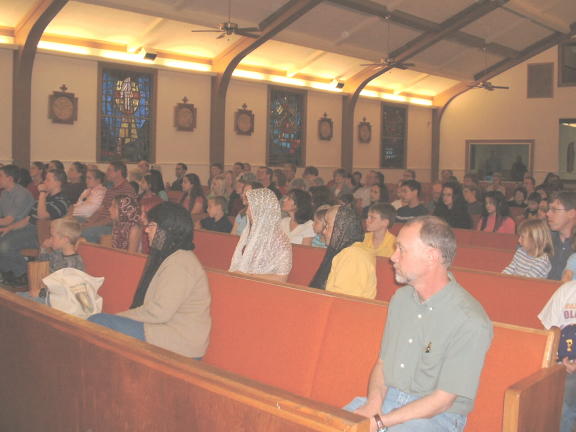 Waiting patiently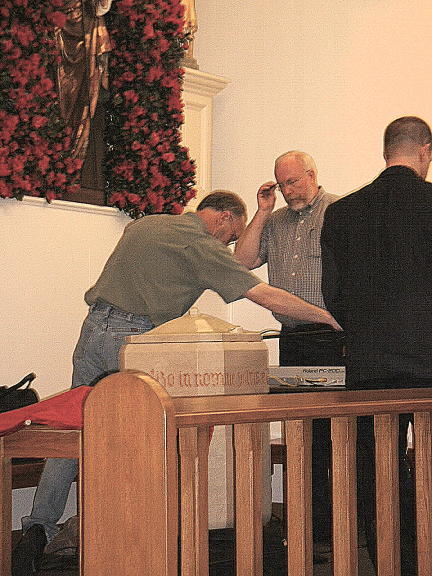 Setting up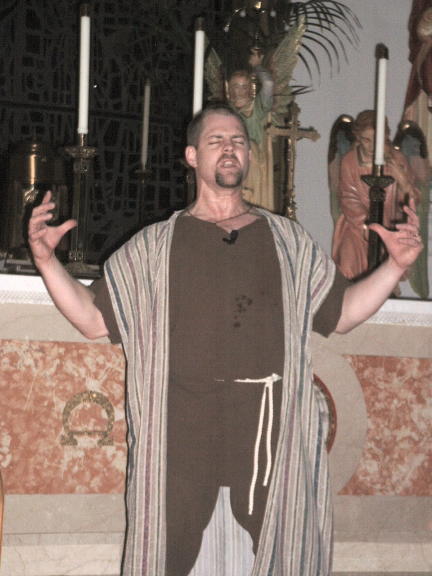 Doug Barry, The Passion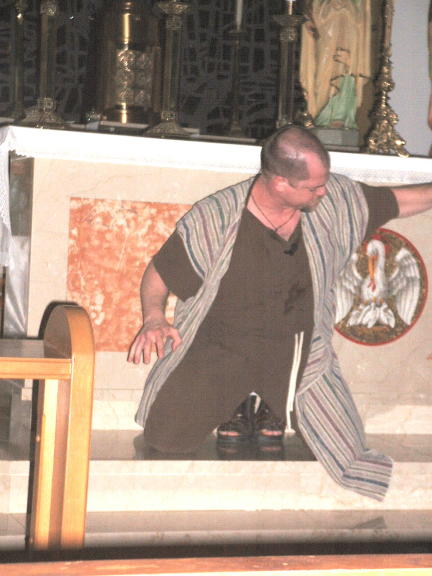 Doug Barry of RADIX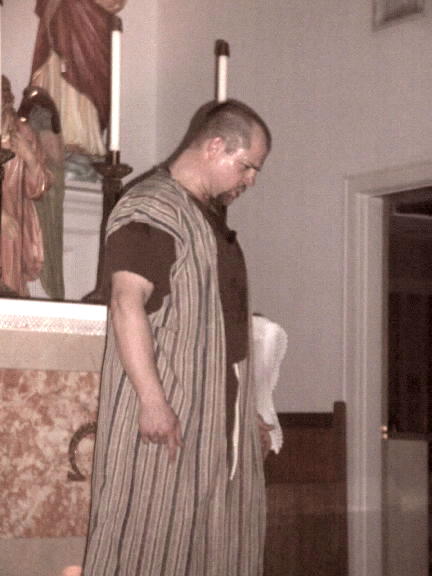 Doug


Doug invites everyone to venerate the Crucufix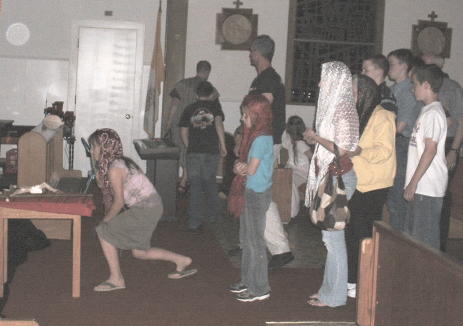 Veneration of the Crucifix

Photos/Presentation
November 18-19, 2006
St. William teh Confessor Catholic Church
Greenville, Texas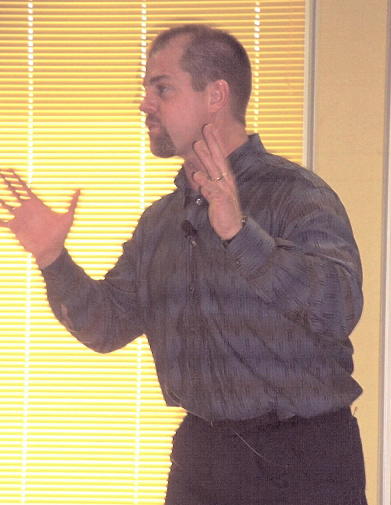 Doug Barry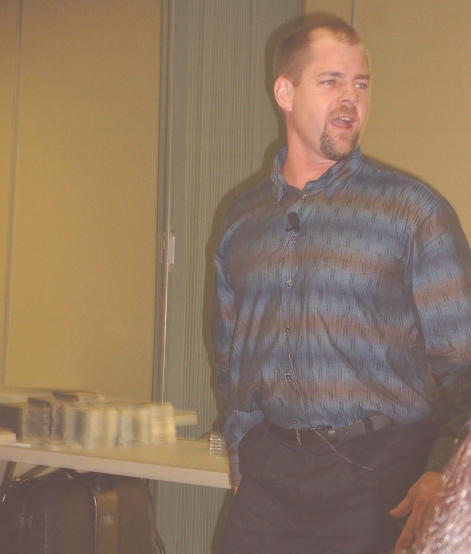 Doug spies the room for prey! He searches high and low to find young men not too thrilled to be at a retreat. Finally he has found his target.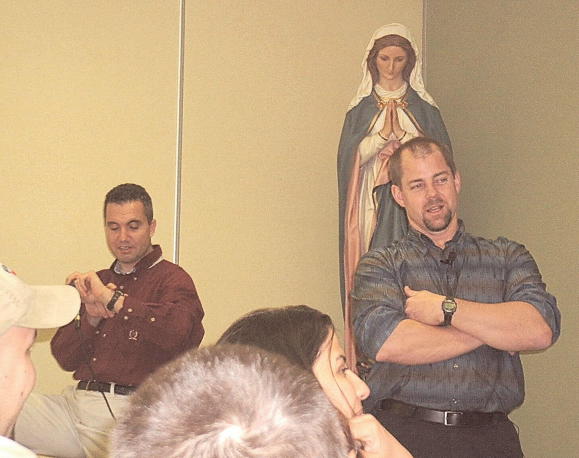 Doug is listening to Melissa Martin recite the Eight Beatitudes from memory. Doug allowed her 30 seconds to do this feat! She did pretty well. She got 7 out of 8 right. Could you do better?

Please visit the links below at RADIXGUYS.COM
"Our battle is not with flesh and blood, but against the principalities, against the powers, against the world rulers of this present darkness, ... Ephesians 6:12.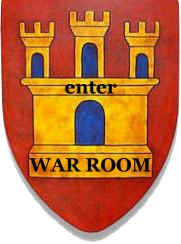 RADIX offers video, audio, and music at very reasonable prices. If you don't have the opportunity to make it to a live presentation, please take advantage of their tremendous offers by clicking on the tents below.
"I Need YOU To Enlist in The Battalion Now!" Many of you already know of the growing strangle hold in our world. This strangle hold is on families, the preciousness of life, the dignity of the human person, the sanctity of marriage, even the freedom of religion feels this grip tightening around its neck. The times are serious and demand an even greater and more dedicated action on the part of every Christian. "Doug Barry"

May God generously bless RADIX and their families.