2009

Fra Lawerence makes his first profession of vows after completing his one year novitiate, September 8, 2009, at the motherhouse of the American mission, in Griswold, CT.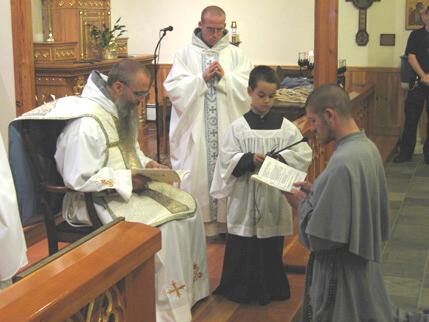 After Friar Lawerence made his first profession, he was allowed to return home for a brief visit. On October 1, 2009, he will move to Italy. He'd desired to be in Italy on the Feast of St. Francis of Assisi, which is October 4th. God has granted Fra Lawerence that favor.
Below are photos taken while Fra Lawerence was home visiting his family and previous parish, St. William the Confessor.
Click photos to enlarge

Fra Lawerence and Fr.
Paul Weinberger

Fra Lawerence with four
of his sisters

Fra Lawerence speaking to
the Women's Guild of St. William
the Confessor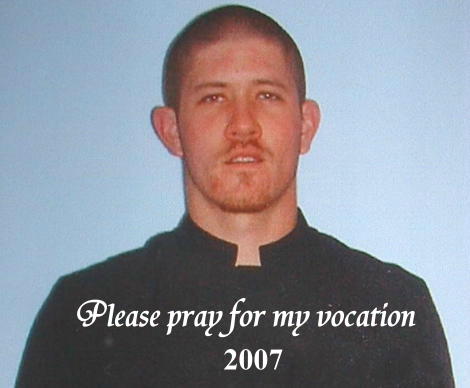 For an update on Aaron please scroll to the end of the page
Scroll down for September 9, 2008









Aaron Fowler is the son of John and Meg Fowler of Caddo Mills, Texas. For more than a year now Aaron has been serving the Holy Sacrifice of the Mass and helping out at St. William the Confessor in Greenville and Our Lady of Fatima in Quinlan. On August 8, 2007 Aaron left for New York and he will follow in the footsteps of St. Francis of Assisi – he will be entering the Franciscan Order. The congregation is called the Franciscans of the Immaculate.
Click photos to enlarge
Fr. Paul Weinberger gives Aaron his final blessing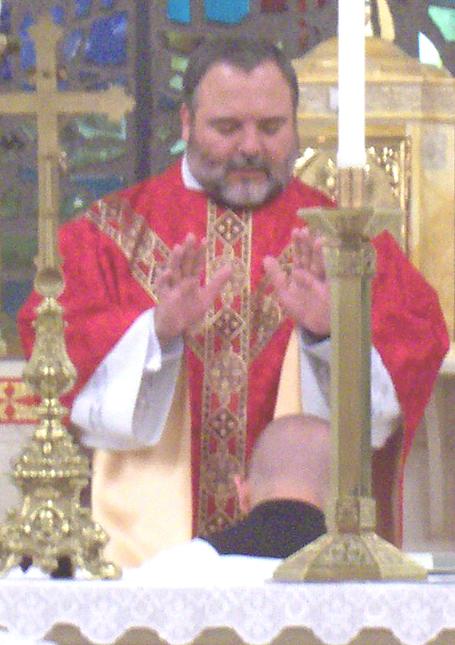 Fr. Paul Weinberger and Aaron Fowler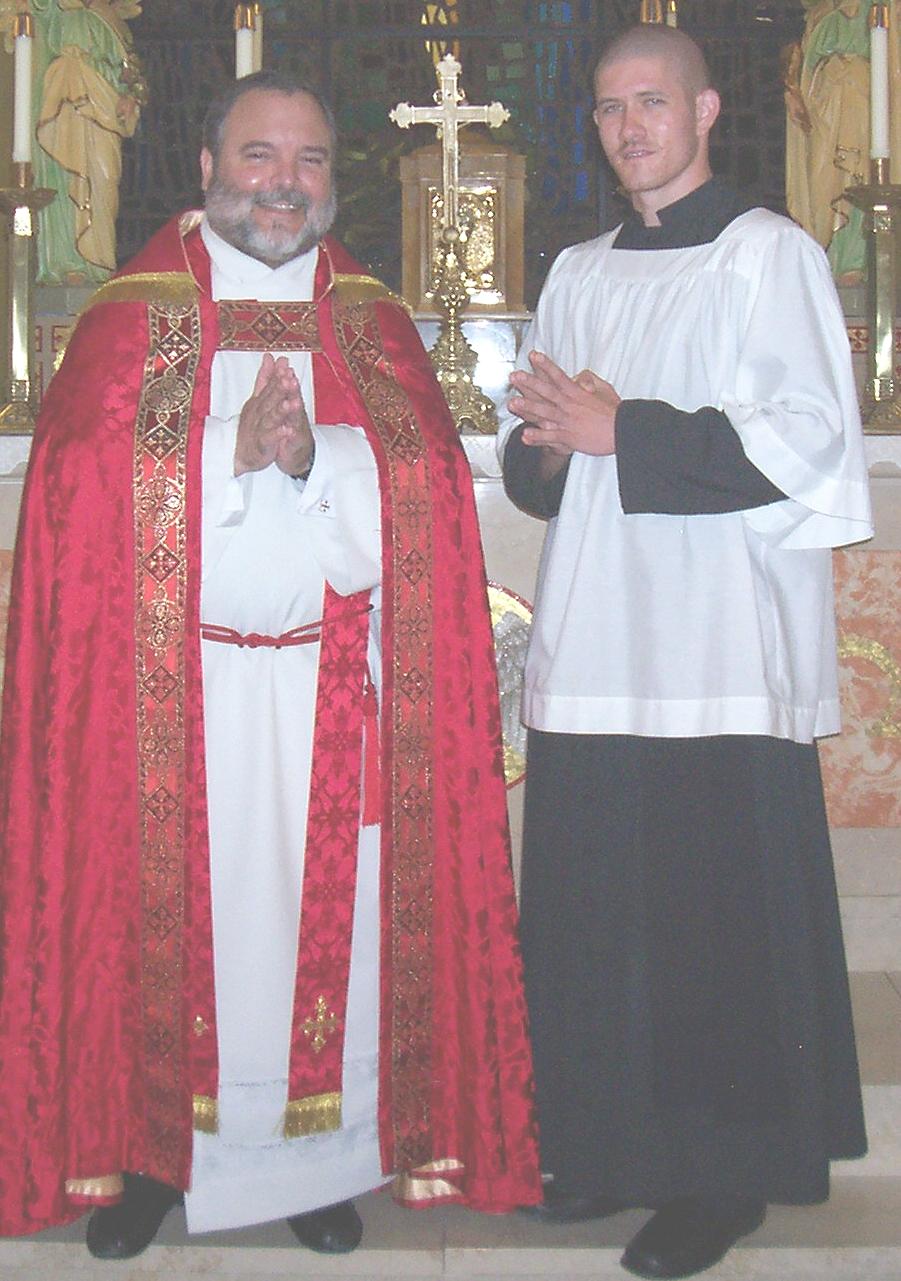 Jesus said,
"If you would be perfect, go sell what you have and give it to the poor
and you will have treasure in Heaven; and come follow Me."
(Matthew 19-21)
I thank all, who have hoped for the success of priests and their vocations. I give thanks also to those, who pray for all vocations, including my own. Many of you have graciously donated to the cause of the Franciscans of the Immaculate; the Lord will bless you as stated in St. Matthew's Gospel.
These Friars are truly poor, living closely the Rule of St. Francis and his tradition. The Friars of the Immaculate are growing very rapidly here in the United States and need much support for their growth. Your gifts will help greatly.
By the prayers of so many in our parish, I am blessed indeed. Know that I will pray and sacrifice for the salvation of souls, especially those of St. William's Parish. Never will your prayers go to waste; the Friars if the Immaculate are striving for perfection through Mary Immaculate to her Son.
For those who may not know, this order is very unique in that there is an additional vow of total consecration to the Mother of God according to the teaching of St. Maximilian Kolbe.
It is the Will of God; "You therefore must be perfect as your heavenly Father is perfect." Might we be so blessed to come by this way of perfection through Mary. To share in this devotion is to share in a special way all of the sorrow and glory of Mary.
Again, please know that my prayers, works and sufferings will be offered up on your behalf. I thank you sincerely for your prayers and your many gifts.
Praise be Jesus living in Mary,
Aaron Fowler









Aaron gets vested!
From the parents of Aaron Fowler
Dear Friends and family in Our Lord Jesus and His Blessed Mother,
Ave Maria! That is the greeting you will hear from everyone at the Franciscan Friary of the Immaculate. They begin and end each conversation, letter and email with those words.
This Saturday, the Feast of the Immaculate Conception, Aaron will receive the first part of his Franciscan habit, the robe and cord. The cord will eventually be replaced by a cord with four, not three notches. This order takes an extra vow (thus the fourth notch) as they are also consecrated to the Blessed Virgin and take a special vow in her honor.
The picture provided is of Aaron standing next to one of the statues of the Blessed Mother. The statue is on one of the many beautifully wooded paths at the Hermitage.
Since my husband and I are not able to attend his vestment ceremony, we are asking all for prayers on this great occasion. Weather permitting, my sister , Fran, will be attending in our place. This is most fitting as she too is named after the Great St. Francis of Assisi!
Aaron will still have a very long road ahead of him before he is able to attain the great privilege of saying his first Mass as a priest. This Saturday is a very big first step to that end.
Thank you all again for your prayers and support!
Ave Maria,
John and Meg Fowler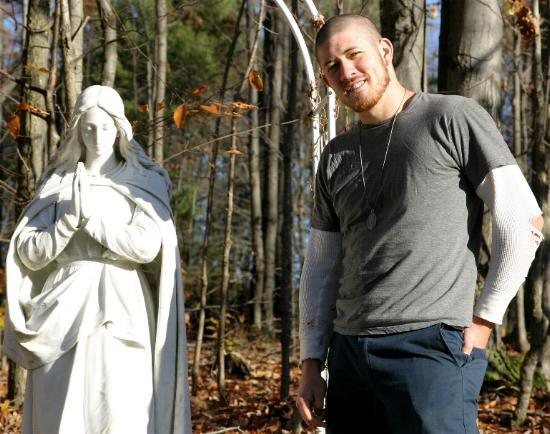 Aaron in his new vestment
click to enlarge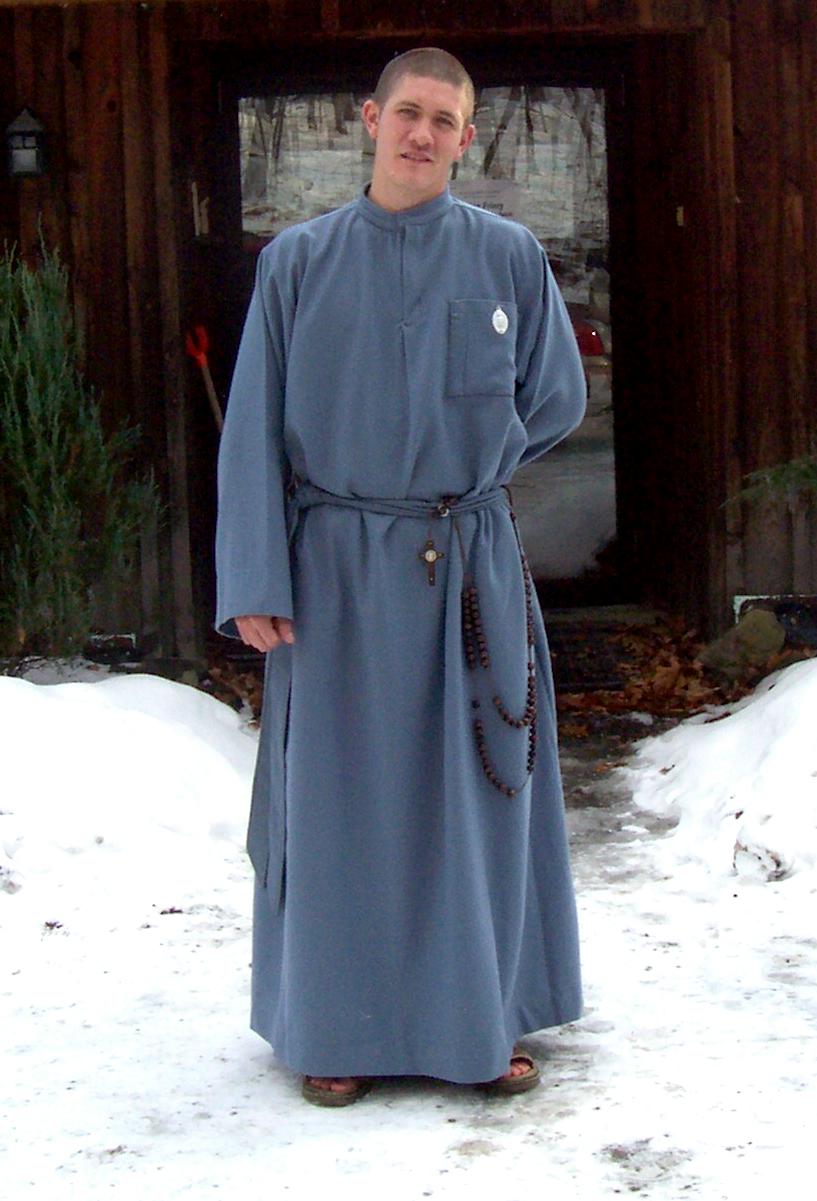 See more photos
Aaron with postulants and friars
Aaron with postulants
Aaron and Our Lady
IWe will continue to update this page as we receive news of Aaron's progress.

September 9, 2008 Update
As of this past Sunday (on the Eve or the Nativity of the Blessed Mother) Aaron was given his religious name as he made another step toward the priesthood of the Franciscans of the Immaculate.
He was given the new name, Friar Lawrence Mary of the Holy Family. He also took an additional piece of the F. I. habit.
His new home is now :
Please remember Aaron Joseph Fowler in your prayers.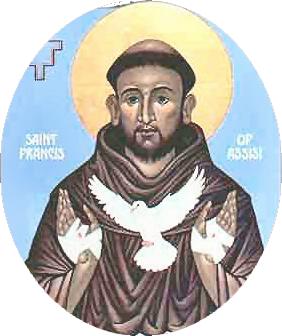 SAINT FRANCIS
PRAY FOR US