Refractions of Light:
201 Questions about Apparitions, Visions and the Catholic Church
By: Kevin Symonds
Published: June 6, 2015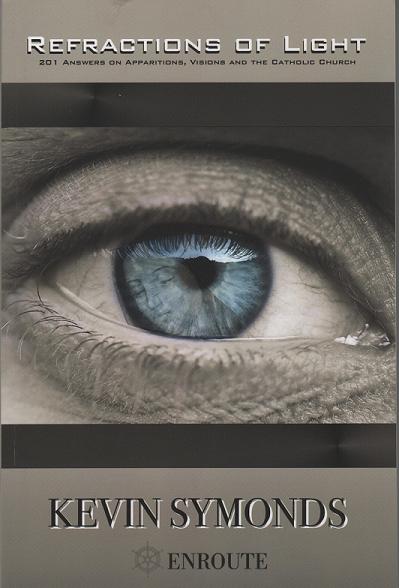 For the past several decades, there has been a notable rise in claims of apparitions, visions and messages from heaven. This growth has often led to confusion and sensationalism among the Catholic faithful. Refractions of Light: 201 Answers on Apparitions, Visions and the Catholic Church seeks to address this situation using an easy-to-read Q&A format designed for a broad audience. It does not shy away from controversial topics, reaching into the relevant Church documents, which it includes in its appendices, to address them. Kevin Symonds' book is a must-read for anyone seeking to understand how we come to know when heaven is reaching out to us.

"In our time," writes Fr. Cassian Folsom, O.S.B., former consultor to the Congregation for Divine Worship, "when claims to private revelation abound, Kevin Symonds' presentation of the Church's teaching in this area is refreshing and clear. Official documents are translated and presented in the appendix. A helpful introduction to the topic."

Dawn Eden, Author of "My Peace I Give You: Healing Sexual Wounds With the Help of the Saints", writes
"Kevin Symonds has done the Catholic public an important service with this clearly written, well sourced, and thorough guide to Church teachings on private revelations. Is it wise to place your faith in a pilgrimage site where "revelations" are ongoing? Would the Doctors of the Church advise partaking in forms of prayer that invite Jesus or the saints to "speak"? Read this book and find out."

Donal Anthony Foley, Author—"Marian Apparitions, the Bible and the Modern World" says,
Kevin Symonds' new book, Private Revelation: What does the Catholic Church Teach? is a valuable addition to the literature on this subject. In a Q & A format he discusses many aspects of this important subject and throws much helpful light on it. If you are confused about exactly how alleged private revelations are discerned by the local bishop, and indeed the wider Church, then this compact volume will help to clarify matters. It is non-controversial, moderate in tone, and is obviously the product of much research. It ought to be required reading in particular for anyone who is seeking to promote alleged visions or visionaries.

And from
Edward Looney, Author Our Lady of Good Help: Mary's Message and Mission for Adele Brise and the World
.
"Kevin Symonds leaves no question unanswered regarding private revelation. This book will help the reader understand the intricacies of evaluating apparitions and locutions."

Refractions of Light: 201 Answers on Apparitions, and the Catholic Church is available at Barnes and Noble and Amazon.com
Author, Kevin Symonds
Kevin Symonds was born and raised in Massachusetts. He attended Franciscan University of Steubenville, Ohio where he obtained his Bachelors and Masters degrees in Theology with emphasis in the classical languages. He has published Internet and magazine articles and resides in Texas.